Eagles win 4 in beanball war at Long Island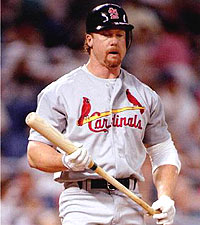 McGwire walked intentionally 19 times!
The Islanders managed three wins against the mighty Eagles of Newark in a series marred by beanball induced injury. Mark McGwire, who was clearly being avoided by Islander pitchers, smacked two HR's and two doubles, but was walked twenty times, nineteen of them intentionally. That part of the strategy appeared to work as McGwire managed to score from only 3 of those 19 free passes. Game #1---The Isles jumped to a quick 2-0 lead on two unearned runs when Mark McLemore booted Dave Nilsson's two-out, bases loaded grounder. HR's by Barry Larkin and Nilsson in the 3rd gave LI a 6-1 lead, and despite a 2-run PH HR by McGwire, the Isles held on for an 8-4 win. The Eagles lost Mike MacFarlane for 5 games, however, when he was plucked in the wrist by an Allen Watson fastball in the 9th. Barry Bonds, batting leadoff for the Eagles, walked in all five of his plate appearances (none were intentional), but failed to score, despite two stolen bases.
Game #2---Violence erupted in a game marred by severe injury to Newark's Roberto Kelly as four Eagles were plunked (or are Eagles "plucked?") by pitches (Kelly and Bonds both forced out due to injury), and two Islander pitchers (Ogea and Percival) were ejected for their part in the escalating violence. The game started innocently enough with Larkin giving LI a 1-0 lead on a sac fly. Rich Becker extended the lead to 3-0 with a 2nd inning double, and Dave Nilsson chased Eagle starter John Burkett with a 2-run 3rd inning shot to make it 5-0. That's when things started to get interesting. With 0 out in the 5th, Barry Bonds was drilled by a Chad Ogea fastball (Ogea had previously hobbled Newark's Jeter with a pitch) and forced from the game. Roberto Kelly ran for Bonds. Two sac flies put the Eagles on the board, but with 2 out, McGwire received the first of his intentional walks and Jeff King popped out to end the threat. After two were retired in the Newark 6th, a walk and PH single by Matt Stairs brought Kelly to the plate for his first AB. Ogea drilled Kelly in the head and was immediately ejected. Kelly, carried from the field, will miss Newark's next 18 games.
Singles by McLemore and Burnitz tied the game, and McGwire stepped to the plate with two runners on, and received the intentional pass. Jeff Nelson then fanned Jeff King to keep the score tied at 5. Solo HR's by Becker and Larkin gave the Isles the lead right back in the bottom of the inning, but the fireworks were not yet over. Troy Percival hit Charlie Johnson in the 7th, and Percival too was ejected as both benches emptied. Jesse Orosco, however, slammed the door, and John Wetteland then started a nifty 1-6-3 bases loaded DP in the 8th to close out the final Eagle threat as the Isles won 7-6.
Game #3---With an exhausted bullpen ready to offer no help, Brad Radke tossed a beautiful 4-hit, 0 walk complete game as the Eagles crushed Long Island 14-1. Bonds, Johnson, and King (twice) HR'd for Newark, while John Olerud's PH HR supplied the Isles' only scoring.
Game #4---Gary Maddux allowed just 5 hits over 7+ innings as Newark edged the Isles 3-1.
Game #5---Mark McGwire belted a 3 run HR to give Newark the early lead, and the Eagles never looked back, besting the Isles 10-0 behind Kevin Brown who allowed just two hits--both doubles by Reggie Jefferson. Determined not to be hurt by McGwire's bat again, the Islanders walked McGwire intentionally in his final four AB's; he did not score.
Game #6---Continuing their strategy of McGwire avoidance, the Isles intenionally walked McGwire three times (twice with the bases empty), and used HR's by Jefferson and Ray Durham (twice) to gain the 5-3 series tying win. Newark threatened in the 8th when McLemore singled with 2 out, but McGwire, representing the tying run was intentionally passed as Jesse Orosco was brought in to face the lefty Matt Stairs. The Eagles countered with switch hitting Dave Segui, but Orosco got him on a comebacker to end the inning. John Wetteland pitched the 9th to pick up the save.
Game #7---Julio Franco's 1st inning HR gave the Isles an early 1-0 lead, but that was all the offense the Islanders would manage to muster as the Eagles routed the Isles 8-1 in the series finale. With McGwire leading off the Newark 2nd, Pat Hentgen elected NOT to walk him intentionally, but McGwire managed to draw the walk anyway and eventually scored on Jeter's 3-run dinger. McGwire would be issued an intentional pass in his next four AB's, but would fail to score.

Return to Newark Eagles home page

Return to TCBA home page