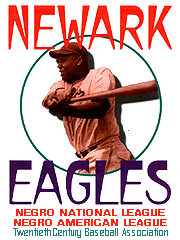 Origin of the name
The Newark Eagles of the TCBA are named after the renowned Negro League franchise of the same name. Owned by Abe and Effa Manley, the Newark Eagles club was a member of the Negro National League during the 1930's and 1940's. The Eagles were among Negro baseball's better managed clubs from a business point of view, and the Manleys consistently maintained the profitability of the team by offering fans a quality lineup. During the 1930's, the powerful Mule Suttles (pictured in logo above) led the offensive attack. In 1947 the Eagles sent the first Negro player to the American League - outfielder Larry Doby. The high point of the Eagles' history came in 1946 when, fielding such stars as Larry Doby and Hall-Of-Famers Monte Irvin and Leon Day, the Eagles defeated the Kansas City Monarchs in the Negro World Series. After sending several of its star players to the major leagues in the early years of integration and, as a result of integration, seeing attendance drop dramatically, the Eagles moved to Houston in an effort to survive. In 1949 and 1950 the team played in the Western Division of the Negro American League, but was unable to remain financially viable.

Hall of Famer Willie Wells also, late in his career, had some of his best years with the Newark Eagles. Wells, an outstanding fielder, baserunner and hitter, was the best shortstop in black baseball during the 1920s, 1930s and early 1940s. With great range, sure hands and an accurate arm, his stellar defensive play earned him a spot in the Newark Eagles' "million dollar infield" in the late 1930's. In 1942, at age 36, Wells hit an amazing .344 for the Eagles. After a brief sabbatical in the Mexican Leagues he returned to the Eagles to hit .320 and .297, in 1945 and 1946, respectively.

The name of this historic Negro League franchise fits well with the fact that Jim Lafargue, manager of its TCBA namesake, works for the New Jersey Attorney General in Newark, N.J., and is a graduate of Boston College Law School, a university which names its athletic teams "Eagles."


Voice of the Eagles (83 K wav)
Feature stories about Eagle players: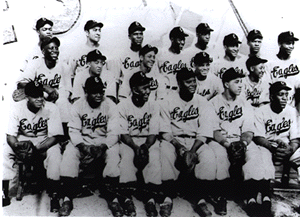 The Real Newark Eagles