RELATED INFO

Hear a homer go upper deck
Big Mac overpowers Big Unit

McGwire now the focus of home run chase
McGwire's MLB bio page

Cardinals stats
Cardinals homepage
National League leaders
IN THE RUNNING

8/11 - J.T. Snow and John Smoltz
8/04 - Pedro Martinez
July POTM - Barry Bonds and Darryl Kile
June POTM - Mike Piazza and Kent Mercker
5/25 - Ellis Burks
5/18 - Sammy Sosa
5/11 - Todd Hundley
5/04 - Rick Reed
4/28 - Jeff Bagwell
4/21 - Kenny Lofton
4/14 - Vinny Castilla
4/07 - Larry Walker
MLB National League Co-Players of the Week: August 11 - 17
Mark McGwire, Cardinals
---
NEW YORK, August 18 -- Mark McGwire of the St. Louis Cardinals, who batted .421 with four home runs and eight RBI, was named National League Player of the Week for August 11 - 17, 1997.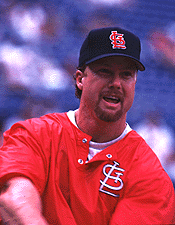 After a slow start, Mark McGwire has caught on to National League pitching.
McGwire was 8-for-19 for the week with a double, seven runs scored and six walks. The Cardinals' 1st baseman posted a .577 on-base percentage and a 1.105 slugging percentage. McGwire recorded a two-homer game vs. New York on August 13th ( the 40th multi-homer game of his career) and he hit a game-tying 9th inning homer on August 15th vs. Atlanta.
The former Oakland A's slugger, who was traded to St. Louis on July 31st, now has a combined total of 39 home runs this season. The Player of the Week award is the first in the National League for Mark McGwire. He previously won the award five times with the Oakland A's (1987, 89, 92, 93 and 95).
Other nominees were Ellis Burks of the Rockies, who batted .533 with two home-runs and five RBI; Chuck Carr of the Astros, who batted .500 with two home runs and three RBI; John Olerud of the New York Mets, who batted .481 with three doubles, three RBI and posted a .533 on-base percentage; Chris Stynes of the Reds, who batted .400 with a home run and five RBI; and Chan Ho Park of the Dodgers, who was 2-0 with a 2.40 ERA in 15 innings pitched and 15 strikeouts.