Slow Burn Propels Brown To Stardom
By BILL KING in Baseball America 4/30/97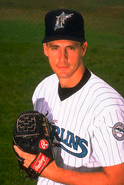 MIAMI--Kevin Brown burns.
Often these days it's a slow burn. A gentle heat that reminds him he's alive and at work sending hitters home to lie restlessly in their beds, wondering what it is they might have done differently.
But there still are those times when the temperature rises past the safe zone, racing past bake and then broil on its way to meltdown, building up pressure that screams for relief.
It's then that it's a bad time to be a baseball bat. Or a water cooler. Or anything else that Brown might mistake for a projectile. Or worse yet, a target.
The temper tantrums that labeled Brown an inconsolable head case when he was underachieving in Texas and Baltimore rage on now that he's in Miami. Only they're taken differently here. He's taken differently here.
"I still come in and yell and scream at myself and throw stuff like I always have, but people here don't see it as a negative," says Brown, who at the start of his second season with the Marlins looked set to dominate the way he did in his first. "They see it as my competitiveness, which is what it's always been. I don't think anybody has ever been harder on me than I am on myself.
"I'm not mad at myself because of arrogance. I just don't want to make mistakes. People here seem to understand that."
Whether or not that dose of understanding is at the root of Brown's metamorphosis from unrealized potential to unquestioned dominance is open for debate. But without question, there has been a metamorphosis that has lifted Brown from a flattered fraternity of 12-15 frontline starting pitchers to the elite cloister of two or three.
His demeanor hasn't changed much. But the results have.
"He's become a pitcher, that's what's changed," says Marlins third baseman Bobby Bonilla, Brown's teammate for half a season in Baltimore two years ago. "He understands now that some days he may not have what he thinks he should have, and he's learned to deal with that. Sometimes you're not going to feel like you've got everything working, but you've still got that job to do. You go out and do it the best that you can.
"From what my understanding is, guys don't enjoy facing him. They say his stuff is moving everywhere. I'm fortunate. I only have to face him in spring training. But guys say there's no one better.
"No one."
Cardinals third baseman Gary Gaetti says he doesn't remember all the specifics of what it was like to face Kevin Brown back when both were working the American League, couldn't tell you whether his sinker was the heaviest or how much run there was to his cut fastball.
But he remembers that the stuff was nasty and so was the man, nasty enough to leave stitch marks on your elbow if he caught you leaning too close to the plate, too nasty to lose as often as he did.
"It's kind of funny," Gaetti says, more puzzled than tickled. "He would pitch just good enough to lose a lot of the time. I don't know if it was just the teams playing behind him in Arlington or what.
"But it seemed like either his control would get him, or he'd be pitching great and make a mistake. And then he didn't recover."
Brown nods when you mention the wayward path of many of his earlier seasons.
For all the regard paid to the astonishing numbers he put together last year--17-11, 1.89 and top five finishes in a barrel full of pitching categories--he says his stuff wasn't much better than it was earlier in his career, when he crested and tumbled like a thrill ride.
Brown tied Jack Morris for the AL lead in victories with 21 with the Rangers in 1992. He went into the following season with even sharper stuff, and after 11 starts his ERA was below 2.00.
The Rangers performed abysmally, though, and Brown had only four victories to show for his work. He realizes now that his record was beyond his control.
Back then, it devoured him. His flash fires turned to five-alarm blazes. He'd have smashed Michelangelo's David if someone had placed it before him between innings.
Out of whack and whacked out, Brown finished the year at 15-12, 3.59. The following season, his last in Texas, he went 7-9, 4.89.
"What I went through in '93 was very similar to last year's predicament, not being able to win games," says Brown, who got his wins last season even though he was provided with the worst run support in the majors. "The difference was that in '93 when that happened, I kept pushing myself to do more. You don't realize you're doing it, but you start trying to be even more perfect. And you focus on a large scale as opposed to a small scale.
"Now I try to do that from pitch to pitch. Then, I did it game to game. When you do that, it's too overwhelming. I went from being in as good a groove as I've ever been in to . . . well, I just lost it."
The Rangers and Brown parted company after 1994. He signed with Baltimore and finished seventh in the AL in ERA at 3.60, but his record was a mere 10-9. Orioles management discussed trying him as a closer.
Brown and agent Scott Boras agreed he would be better served by relocation. They selected Miami, where former manager Rene Lachemann carried a reputation for nurturing flakes rather than frosting them. Lachemann calls it "treating people like human beings."
During his first meeting with Brown, Lachemann laid out the code of conduct that Brown would be forced to adhere to.
"You want to break something, you go ahead and break whatever you want," Lachemann told Brown. "As long as it's not any of my stuff and you pay for what you break, I don't care."
Lachemann says he saw none of the self-defeating, arrogant, selfish Brown he'd heard about.
"He was a class citizen along with, in my opinion, being the best pitcher in the league," Lachemann says. "I respect who Greg Maddux is. But if you talk to hitters in this league who've faced him and Smoltz and Maddux, the ones I've talked to would rather face the other two guys than Kevin Brown. Not that the other two guys are any day at the beach, but this guy--wow."
To elevate Brown to the hallowed level of Maddux, for anything more than an acknowledgment for having the better 1996 campaign, would be a foolhardy endeavor. Brown must repeat his success of last year, and repeat it again, before he can be put in that class.
But the fact that Brown's name even comes up in the discussion is testament to how far he has come.
"It's hard to say if his stuff is the best," Marlins pitching coach Larry Rothschild says. "But it's the best I've been around, the best combination of movement and control. He's been able to throw three or four different pitches and change his arm slot and do it just as effectively.
"Special athletes can do special things. He does special things."
Other pitchers on Florida's staff marvel at the way Brown can drop his arm to varied angles to achieve a variety of movement without losing his grip of the strike zone. His sinker is made of lead, and his slider and changeup are above average. He throws a cutter that keeps lefties honest.
Ask Rothschild to name the last pitcher with stuff similar to Brown and he shrugs his shoulders. Hard to say, he says, because he hasn't seen the others as often as he's seen his own guy. When you press him, though, he comes up with a name:
"Bob Gibson maybe?"
The photo of the docile, brown-eyed deer has been hanging over Brown's locker since early last season, looking down at him every day, reminding him that it's OK to laugh at imperfection.
Joe Orsulak put it there as a joke after Brown brought the team a box full of buckeye acorns that his family had sent him for good luck at the start of the season. He passed them out after the Marlins got off to a 2-3 start. Early in May, they were 11-21.
"They were supposed to help turn us around, but they didn't work too well," Brown says, allowing himself a grin as crooked as his pitches. "Orsulak was messing with me one day and he fired one at me from across the room.
"Keep these damned things out of here,' he said. I came in a couple of days later and he had that up there for me."
Brown points to the photo of the big-eyed buck. A few years ago, it might have reminded him of a horrid beginning, starting his insides churning each time he looked at it. Today, it makes him giggle.
You can't always keep a fire from starting. But you can understand why it started. And keep it from burning out of control.
"It's the drive to be perfect," Brown says, explaining flareups such as his most memorable of last season, when he obliterated a dugout water cooler. "The guys give me a hard time because I'll have a 10-pitch inning and come back to the dugout upset at myself because I didn't throw a pitch where I wanted it. I got by with it and got the guy out, but I'll be mad at myself because I know that over the course of the season, making that same mistake again is going to hurt me. The mistakes that you make catch up to you."
"I'm sure that looking at things that way can get in the way. I'm sure it has and it probably will again."
"I know I'm not perfect. But that doesn't mean you don't want to be."
---

Return to Newark Eagles home page

Return to TCBA home page