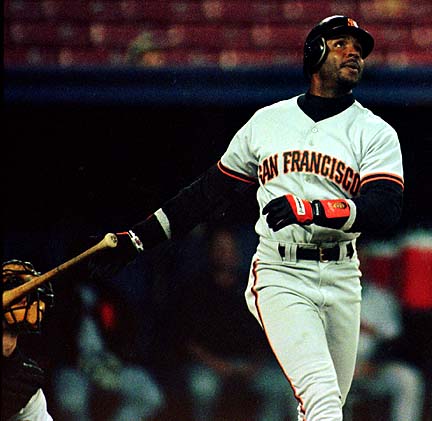 An Immortal Among Us
By Rob Neyer
I write this the day after the Hall of Fame voting results were released, and my mind -- along with those of many baseball fans, I suspect -- is preoccupied with thoughts of baseball's greatest players. Phil Niekro, George Brett, Eddie Murray, Nolan Ryan ... the list goes on.
Barry Bonds is better than any of those guys. And by the time his career is over, Bonds will be one of the dozen greatest players ever, somewhere north of Rogers Hornsby and south of Willie Mays on the all-time list.
Preposterous?
The baseball writers of America don't think so. They named Bonds the National League's MVP in 1990, '92 and '93. Only seven other players, Hall of Famers all, were three-time MVPs: Jimmie Foxx, Stan Musial, Joe DiMaggio, Roy Campanella, Yogi Berra, Mickey Mantle and Mike Schmidt.
Preposterous?
National League pitchers don't think so. Bonds has now led the league in intentional free passes for five years running. Or maybe that should be five years walking. NL pitchers and managers know that when he has a bat in his hands, Bonds is an awesome force. There are really only two things which distinguish the greatest hitters: the ability to reach base and the ability to hit for power. The truly great hitters -- Babe Ruth, Frank Thomas, Ted Williams -- do both of those things exceedingly well. Most analysts agree that Ruth and Williams are the two most productive hitters in major-league history. Ruth led the American League in on-base plus slugging percentage (OPS) a dozen times. Williams did it nine times (and would have done better if not for two wars). Bonds led the National League in OPS for four years straight, 1990 through '93.
Preposterous?
Pete Palmer doesn't think so. Palmer, co-author of Total Baseball, currently has Bonds rated as the 17th most productive non-pitcher in baseball history. Just to give you an idea of what that means, here are Nos. 15 through 20:

               Player          TPR  Seasons

               Frank Robinson  69.0   21
               Lou Gehrig      65.7   17
               Barry Bonds     64.8   11
               Mel Ott         62.7   22
               Joe Morgan      56.3   22
               Jimmie Foxx     54.0   20
TPR = Total Player Rating, the number of wins contributed by a player over his career compared to a league-average player at the same position. To retire as the 17th most productive player in baseball history ... well, that would be an incredible achievement.
And that's the truly amazing thing. Bonds is not going to retire today, or tomorrow, or even in five years. Players of Bonds' caliber last a long, long time. Of the six men listed above, four played at least 20 seasons, and Gehrig would have if he hadn't gotten sick. Yet there sits Bonds, right up there with the immortals ... after only 11 seasons.
We'll pause for a moment, while you ponder this: Joe Morgan is the greatest player of the 1970's--arguably the third-greatest second baseman of all time. By Palmer's method, Bonds -- in half as many seasons -- has already won more games for his teams than Morgan ever did. True, Bonds will drop off as his career continues, but upper-echelon Hall of Famers are typically productive into their late 30s, at least. But what makes Bonds so special? After all, there are other great hitters out there, right? Frank Thomas, Mark McGwire and Gary Sheffield, to name three. The difference is that Bonds is more than just a great hitter.
He's a five-time Gold Glove left fielder and, unlike a lot of Gold Glovers, his defensive stats actually match his reputation. He's a fantastic baserunner, with 380 stolen bases and -- just as important -- an excellent 78-percent success rate. He's durable. In his 11 seasons, Bonds has spent a total of 20 days on the disabled list.
He's one of the greatest hitters in the game, one of the best outfielders, one of the best baserunners, and he's in the lineup every day. Quite simply, there is no hole in his game. Yes, I know we're ignoring the "intangibles." Bonds isn't always easy to get along with, and he doesn't always hustle like he should. Those things do count for something. But please, don't call Bonds a loser. He paced the Pirates to three straight NL East titles and in his first season with the Giants, they won 103 games. No player -- not Barry Bonds, not even Ted Williams -- can win a pennant by himself. Any number of baseball's all-time greats weren't what you'd call wonderful human beings. But wouldn't you like to go back and see Ty Cobb play? Unfortunately, we don't have time machines. But we do have Barry Bonds, one of the dozen or so greatest players who ever lived.
---

Return to Newark Eagles home page

Return to TCBA home page