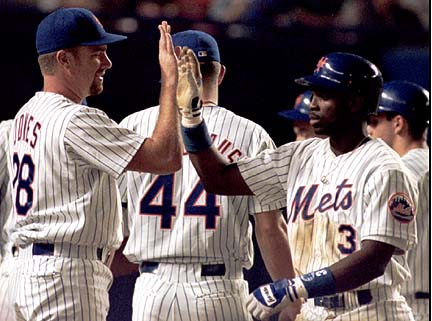 Everett no longer an underachiever
By JASON DIAMOS in the New York Times, July 22, 1997
NEW YORK -- Underachiever. Fair or not, that label was hung last year on the Mets' stoic right fielder, Carl Everett.
It is a label that Everett has been doing everything he can to shed this season, especially with his bat.
Everett hit two home runs Monday, including a two-run, tie-breaking shot in the eighth inning, and drove in four runs as the Mets completed a four-game sweep of the Cincinnati Reds with a 5-3 victory at Shea Stadium.
"Carl Everett jumped back into the lineup and stole the show," Manager Bobby Valentine said.
With the show hitting the road for a two-week swing west, beginning tonight in Los Angeles, the Mets (56-42) are 14 games over .500 for the first time since 1991. Coupled with Florida's 10-2 loss to San Diego Monday, the victory pulled New York to within one-half game of the Marlins for the National League wild card spot.
And the victory gave further credence to Everett's contention that all he needed was a chance to play in order to produce what was expected of him.
"What got to me was, I wasn't playing," said Everett, who languished on the bench for much of last season. Under Valentine, however, that has changed.
A year ago, the soft-spoken Everett was probably the most unhappy player on the team. The manager, Dallas Green, was often critical of him. His numbers were way down from 1995, when he hit 12 home runs in 79 games. And Everett went so far as to request a trade.
Then came Green's dismissal and the hiring of Valentine.
"He was one of the guys I was talking to when I said I was not going to judge them on the past," Valentine said of Everett. "I was going to give them a chance. I wanted them to give me a chance."
Both manager and player have done the most with their chances in 1997. Monday, the Mets won with only four hits. The two biggest belonged to Everett.
It was Everett's third two-homer game of the season. He unloaded a second-inning solo shot 449 feet into the second deck in right field off a fastball for the Mets' only hit against the Reds' starter, Dave Burba. Four innings later, Everett drew a bases-loaded, two-out walk off Burba to erase a 2-1 deficit.
Carlos Baerga followed with an infield single, the Mets' only hit of the inning, off reliever Mike Remlinger to give the Mets a 3-2 lead. But Joe Oliver tied the game with a home run off Bobby Jones (7 innings, 6 hits, 3 runs, 2 walks, 5 strikeouts, 2 home runs) in the Reds' seventh.
That set the stage for Everett again, and he seized the moment by lining a hanging slider from Scott Sullivan (1-3) over the fence in right-center field with two out in the eighth for the two runs that made the difference.
For Everett, it was his 11th homer in 281 at bats this season -- 10 more than he hit in 192 at-bats last year. With two hits in three at-bats yesterday, Everett is batting .274 in 89 games, a year after batting .240 in 101 games.
After opening the year as Valentine's starting right fielder, Everett was batting just .205 on June 5. But he was playing every day anyway because of center fielder Lance Johnson's nagging shinsplints.
Since Johnson's return, Valentine has done his best to give Everett time in the outfield. And Everett has repaid his manager by righting himself at the plate.
"I believe in myself," Everett said. "I know I'm not that type of hitter. I'm not a .200 hitter. Andres Galarraga had a couple of bad years and look at him now."
Everett has always shown promise. When the Mets acquired him from Florida after the 1994 season, he was touted as a five-tool player, someone who can hit for average, hit for power, run, field and throw.
A case can be made that the reticent 26-year-old outfielder is misunderstood. To strangers, he is aloof.
"Sometimes that can be misunderstood for selfishness and not caring," said the Mets' first-base coach, Mookie Wilson, whom Everett refers to as a big-brother figure. "You know. Not wanting to play. Very hard-headed. Hard to coach. Nothing can be farther from the truth."

Return to Newark Eagles home page

Return to TCBA home page