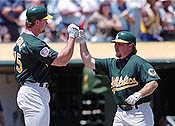 Stairs forces his way into A's lineup
Sun, Jun 15, 10:27:32PM
by Associated Press
OAKLAND, Calif. -- Matt Stairs (shown being congratulated by fellow Eagle slugger Mark McGwire) started the season as a reserve outfielder and pinch-hitter for the Oakland Athletics. Lately, he's swinging the bat so well, they can't afford to keep him out of the lineup.
Stairs homered and doubled to drive in all of Oakland's runs and Ariel Prieto struck out a career-high 11 in 6 1-3 innings as the A's beat the Colorado Rockies 5-2 Sunday for a split of their two-game series.
``When you swing hard and make contact, good things happen,'' said Stairs, who has started each of the past five games and hit safely in all of them, going 7-for-18 with three doubles and two homers. His five RBIs Sunday were one below his career-high.
``More than anything he's coming up with big hits, clutch hits,'' said Oakland manager Art Howe, who described Stairs at the start of the season as one of the A's ``extra'' players. ``He can get a home run here or there with nobody on, but when we need one with people on, he seems to come through and get it for us.''
Stairs, seeing more duty lately because of an injury to Jason Giambi, said he's comfortable with his role and credits his hitting surge batting in front of Mark McGwire.
``Look, I'm not demanding to play every day. There's four guys ahead of me who are really good ballplayers,'' Stairs said. ``And with Mark hitting behind you, it's a situation where I'm going to get good pitches to hit. They'd rather face me than McGwire.''
Stairs' three-run homer in the first inning gave Prieto (5-4) a lead he never relinquished.
Prieto, who allowed seven hits, fanned two in each of the first four innings and struck out the side in the fifth. He is unbeaten in four decisions this season at Oakland.
``I felt very aggressive, very strong,'' Prieto said. ``Everything was working today, my fastball, slider.''
Still, he said the number of strikeouts surprised him.
``Maybe it's because they didn't know me but I didn't know them either,''
Larry Walker, who played for the second straight game after sitting out against Seattle's Randy Johnson, went 3-for-4 to raise his major league-leading average to .419 and hit his 20th homer. He also bunted for a single in the seventh inning.
``The third baseman was back and I got a strike to be able top bunt it,'' Walker said. ``You need all the cheap hits you can get to bat 400. You just have to tip your hat to their pitching staff today. Prieto was hitting spots and his breaking ball was biting.''
Walker also tipped his cap to Stairs, a fellow Canadian and a onetime teammate of Walker while the two were with Montreal five years ago.
``Stairs can rake the ball,'' Walker said. ``I've never seen a guy 3-foot-5 hit the ball so good.''
Stairs is really 5-foot-9.
Swinging for the fences
by Mario Giannettino 7/22/97
There's no place like home.
Matt Stairs steps up to the plate, the lingering crowd at the Oakland Coliseum craving for good baseball. He fires a line drive over the right field wall and trots across the bases like it's no big deal. Later on in the game, another home run.
When the game is over, the crowds of fans flock to the area above the dugout, shouting for a Mark McGwire autograph, screaming for Jason Giambi. Stairs walks back to the clubhouse in silence, 14 home runs under his belt, 13 of them coming in the confines of his home turf.
Matt Stairs?
Who is this guy with the .367 average along with 15 home runs and 42 RBI?
At 5-foot-nine, 200 pounds, a thick goatee spread across his face, Stairs looks more at home on a couch than slamming home runs with Ruthian abandon. A native of Canada, Stairs was not drafted by any big league team. Signing with the Expos as a non-draftee in 1989, Stairs played at three different levels without much fanfare. It wasn't until 1990, that he began making some noise, tearing up the Florida State League with a combined .287 average, 64 RBI and 20 steals over two levels.
The former member of the Canadian Olympic team that competed in Seoul, Korea, Stairs was one of the Expos most valuable products in 1991. Highlights of the year included an MVP award at Harrisburg, an All-Star selection at second base, finishing among the league leaders in hits (168), slugging (.509), triples (10), and intentional walks (8). Stairs also managed to win a pair of batting titles, hitting .330 in the Mexican Winter League and .333 for the Expos farm team.
After the 1992 season in which he was shuttled back and forth between Montreal and the Minors, Stairs' contract was assigned to the Chunici Dragons of the Japanese Central League.
During his five-month stint overseas, Stairs hit .250 with six home runs and 23 RBI, but his homecoming was forgettable. On returning to the States, Stairs' contract was sold to the Boston Red Sox. Playing for Double-A New Britain, Stairs finished second on the club with a .309 average and was named MVP of the Eastern League All-Star Game.
After a 1995 season in which he collected 56 RBI, Stairs cracked the Red Sox lineup for 39 games. Driving in 17 runs while hitting .261 on a part-time basis, Stairs was eventually released and snatched up by Oakland. Easily the most successful pinch hitter in 1996, Stairs was the A's main weapon off the bench. Hitting .471 in pinch-hit situations, Stairs was also valued for his versatility, playing in the outfield, at first and as a DH.
On July 5, against California, Stairs delivered his first career grand slam and a two run single in the same inning, en route to a Major League record for RBI (6) in an inning. Stairs finished the season at .277 with 10 home runs.
Even though no fans rush to greet him or flood him with a barrage of questions, Stairs couldn't be happier. He's preoccupied with tomorrow's game, anticipating that initial step into the box, a new barrage of fly balls waiting to be unleashed into the bleachers.