Tuesday, July 22, 1997
MLB American League Player of the Week: July 14-19
Matt Stairs - Newark Eagles
---
NEW YORK, July 21 -- Newark Eagles' right-fielder Matt Stairs has been named the American League's Player of the Week for the period July 14 - 19.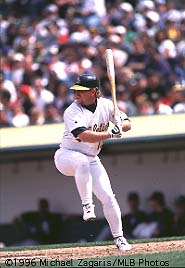 Matt Stairs has 17 homers in just 157 at-bats.

Stairs led the league in batting average (.611), slugging percentage (1.444), on-base percentage (.692), home runs (5), RBI (11), runs (10), and tied for first in total bases (26). In six games, Stairs was 11-for-18 with seven walks (second in the league).

Matt Stairs is making the most of his opportunity. Stairs, playing behind Geronimo Berroa much of the season, is now the A's everyday right-fielder and he is making American League pitchers pay for lost time.

In his first game of the week, Stairs accounted for the A's only runs against the AL West leading Seattle Mariners. In the game Stairs deposited two homers en route to a 3-for-3, two RBI performance in the A's 6-2 loss.

Stairs went right back at it the next night, however. In the A's 8-5 victory over the Mariners, Stairs went 2-for-4 with another homer and two RBI.

The next series against Kansas City, Stairs again was virtually unstoppable. In the A's identical 11-3 routs of the Royals, Stairs went a combined 4-for-8 with one homer, six RBI and four runs scored in the two game set.

Currently, Stairs is hitting .376 with 17 home runs and 46 RBI in 157 at-bats. He has five home runs in his last five games heading into tonight's (June 21) game against Boston.

Others in consideration for the award were Paul O'Neill of the New York Yankees, who batted .548 with 17 hits; and Mark McGwire of the Newark Eagles, who batted .480 with three home runs.

Return to Newark Eagles home page

Return to TCBA home page