McDonald becomes Brewers' money pitcher
By Larry Whiteside in the Boston Globe 5/27/97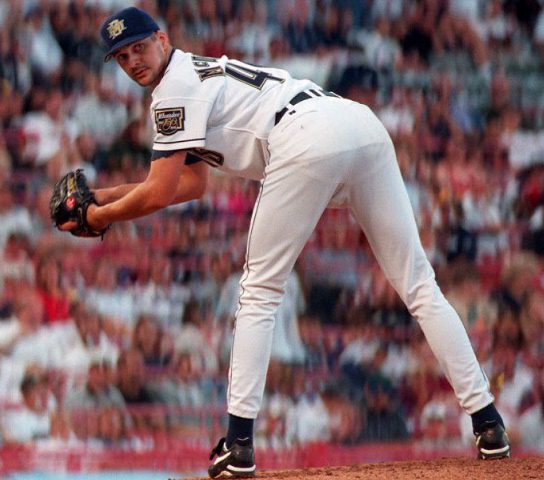 He could be their major investment for the future. The Brewers expect a lot out of Big Ben McDonald. But no more than what he expects out of himself. McDonald watched helplessly yesterday as one of his better efforts of the season went for naught in a 3-2 loss to the Red Sox at Fenway Park. The 6-foot-7-inch righthander struck out a career-high 11 batters in 7 innings, but a 2-1 lead disappeared in the ninth.
McDonald (5-3) is not a pitcher you hear an awful lot about these days, even though he was the first player taken in the 1989 draft. He is a former Olympian who spent five years in the Baltimore organization, and as recently as 1994, he was 14-7 for the Orioles. But injuries sidetracked his career and he fled to Milwaukee as a free agent. He is Milwaukee's highest-paid player, making an estimated $4.5 million, which is a king's ransom for a small-market club. His contract is up after this season, and he has an option for 1998. But with a couple more outings like yesterday's, he might be too valuable to stay in Milwaukee. ``I had a sore arm three weeks ago,'' said McDonald. ``My pitch counts were low, and they were taking me out. But I'm getting better. For the most part, I feel like I will be pitching my better ball as the weather warms up. I'm a warm-weather pitcher. I hate the cold and Milwaukee can be very tough to pitch in. We hope it warms up. ``Throughout my career, I've been a better pitcher in the second half of the season. I think it goes back to mechanics. Once I get 100 innings in, it becomes second nature to me. If you go back and look at a lot of big, tall pitchers, I think they pitch better as the season progresses.'' The Brewers have McDonald on a strict five-day rotation. It seems to work.
``It's a rhythm thing,'' he said. ``Keep me on five days and I'll eventually get a rhythm and I'll be more consistent. I feel my A game is coming. Me being 6-7 with a lot of arms and a lot of legs, it's very important for me to be able to throw inside, keep that rhythm and keep my mechanics.'' After seven stellar innings yesterday, McDonald gave up two singles and a walk to load the bases with one out in the eighth. He was replaced by closer Doug Jones, who got out of that jam with a 2-1 lead. But Tim Naehring's two-run double off Jones in the ninth cost McDonald the victory. ``You can't complain about something like that,'' said McDonald. ``He'll save a lot more games for us than he'll lose. I wasn't tired. But the situation dictated a change and the breaks didn't go our way.''
Copyright 1997 Globe Newspaper Company.
---

Return to Newark Eagles home page

Return to TCBA home page