Masterful Mr. Maddux
By David Schoenfield for ESPNET SportsZone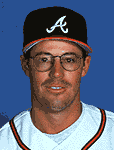 Celebrate Greg Maddux.

You are witnessing one of the most dominating pitchers of all time.

He doesn't possess the blazing fastball of Nolan Ryan, the intimidating glare of Roger Clemens, the fist-pumping victory celebration of Dennis Eckersley.

He doesn't make TV commercials, write books or pose for magazine covers. The spotlight? The only one he cares about is the center of the baseball diamond.

Bob Klapisch sums up Greg Maddux perfectly: "Understand his genius."

The past five years of Maddux's career -- from 1992 through last season -- might rank as the greatest five-year stretch a pitcher has ever compiled. Put him alongside the top pitchers in history -- Walter Johnson, Lefty Grove, Sandy Koufax -- and Maddux fits right in.

Sure, the slim right-hander slipped a bit last year -- heck, he dropped all the way to second in ERA in the National League as his mark rose to an unsightly 2.72 -- but consider this list of achievements in the past half-decade: four consecutive Cy Young Awards, three ERA crowns, three times leading the league in victories, four times leading in innings pitched, three times compiling the most complete games, twice leading in shutouts.

He is precision on the mound, throwing the ball exactly where he desires: he walked only 17 batters unintentionally in 35 starts last season.

Historically, his most impressive feat has been the microscopic ERAs. In an era of home runs and increased offense, his numbers are mind-boggling.

A good way of judging just how impressive those marks are is to compare Maddux's ERA to the league average by dividing the pitcher's ERA by the league ERA. This is called relative ERA. The lower, the better.

His 1.56 mark in 1994, when the league compiled a 4.21 ERA, works out to a ratio of .371 -- Maddux's ERA was 37 percent of the league mark. His 1.63 total the next year -- when the league was at 4.18 -- works out to .390.

Walter Johnson, the second-winningest pitcher of all time, won 149 games for the Washington Senators from 1912-1916. Maddux won 90 during his stretch (101 if you adjust for the strike).

Johnson's ERA was never higher than 1.90 in those five years and sunk to 1.14 in 1913. (Hmm, 36 wins, 1.14 ERA -- how big of a salary would those numbers draw today?) But his two best relative ERAs were almost identical to Maddux: .389 and .416.
Maddux masters Yankees with 88-pitch shutout
Associated Press 7/3/97
NEW YORK -- The World Series rematch between the Yankees and the Braves became just another stage for Greg Maddux to show he's the best pitcher in the world.
Maddux made pitching in the major leagues look like the simplest of tasks, dispatching New York with machine-like precision Wednesday and leading Atlanta to a 2-0 victory.
"I located about as good as I ever have," he said with much understatement.
That he pitched a three-hitter does not even begin to tell the story of how dominant he was:
He needed just 88 pitches, 65 strikes.
He started 20 of 28 batters with strikes, facing just one batter over the minimum.
He went to three balls on just one batter (Paul O'Neill in the first) and went to a 2-0 count just twice (O'Neill in the first and Tino Martinez in fifth).
Five of his eight strikeouts came on three pitches.

"It's amazing. He's so effortless. He makes it look so easy," Yankees pitcher David Cone said. "You just have to admire his cool. You never see him panic. He's in a class by himself."

Maddux (11-3) threw just 18 balls among 89 pitches last Friday, beating Philadelphia 7-1 with a six-hitter. He hasn't walked a batter in five starts, a span of 36 innings since San Francisco's J.T. Snow took four balls in the eighth on June 7.

"I'll walk a batter before I give in," Maddux said nonchalantly. "Sometimes you don't walk anyone."

Last October, when the Braves won the first two games of the World Series before losing four straight to the Yankees, Maddux was dominant in Atlanta's 4-0 victory in Game 2. But he lost Game 6, 3-2.

"It's not the same," he said of this week's rematch. "The field's the same, the player's are pretty much the same, but it's a huge difference. Trust me, it's not even close."

New York had only three runners, on singles by Mark Whiten in the third, Joe Girardi in the fourth and Chad Curtis in the ninth.

Whiten went to second on a fielder's choice, then got picked off. Girardi was erased on a pretty double play in which shortstop Jeff Blasuer went to his knees for a grounder and made a sidearm flip to second.

Bernie Williams, activated before the game, pinch hit after Curtis' one-out single and took a called third strike. Derek Jeter followed with a game-ending bounceout.

"He never throws the ball straight," Jeter said. "You don't know what to look for."

Braves coach Leo Mazzone doesn't think Maddux is pitching better than usual. To him, the four-time NL Cy Young Award winner routinely throws this well.

"Sandy Koufax had the great power. Nolan Ryan was overwhelming. My idol was Whitey Ford," Mazzone said. "But when you talk about locating and changing speeds pitch after pitch after pitch and outing after outing after outing, it just boggles your mind."

When Maddux went to 3-2 on O'Neill in the first, it was because he wanted to. He threw an outside fastball on 2-2 to set up a outside-corner curve that O'Neill grounded to second.

Braves catcher Javy Lopez has noticed one difference in Maddux of late.

"He's been keeping the ball down," he said.

Not that he was getting it up that much before. Maddux heads into the All-Star game with a 73-24 record since the 1993 All-Star break.

"You have no room for error," Yankees pitcher Dwight Gooden (3-1) said, admitting that pitching against Maddux adds pressure.

Gooden was merely good, allowing seven hits in seven innings with six strikeouts and three walks.

Chipper Jones hit an RBI single in the third and Ryan Klesko homered in the sixth into the first row of the upper deck in right. On Tuesday night, Klesko hit a two-run homer in the Braves' 3-1 victory.

After losing the series opener 1-0 in 10 innings, Atlanta rebounded to win the next two. But it didn't make up for losing the World Series.

If Maddux had pitched like this in Game 6, Cone and Tom Glavine would have had a chance to face each other in Game 7.

"I prefer watching him on TV instead of pitching against him," Gooden concluded.