Jeter unanimous choice for AL Rookie of the Year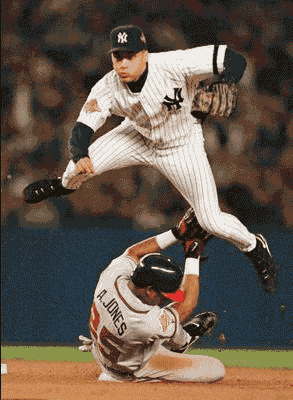 NEW YORK -- Derek Jeter began the season as the second-most publicized shortstop in New York, blossomed into one of the top shortstops in baseball, won a World Series title and capped off his year by unanimously winning the AL Rookie of the Year award Monday.

Jeter hit .314 with 10 home runs and 78 RBIs while turning 22 during the season.

"Winning a world championship is the best, even more than winning this award," Jeter said at Yankee Stadium. He became the eighth Yankee to win the award and first since Dave Righetti in 1981. He received all 28 first-place votes and 140 points in balloting by the Baseball Writers' Association of America.

Chicago White Sox pitcher James Baldwin, who went 11-6, got 19 second-place votes and 64 points. Detroit first baseman Tony Clark, who hit 27 home runs, was third with six second-place votes and 64 points.

Jeter was the fifth unanimous choice for the award and the first since Tim Salmon of the Angels in 1993.

Voting was completed at the end of the regular season, meaning Jeter's sterling play in the playoffs and World Series wasn't factored in.

Jeter credited manager Joe Torre with giving him confidence.

"I had rough periods all season. In spring training, I thought they were going to send me out when the season started," he said.

"He told me I was the shortstop and he was behind me everytime I had a problem or didn't play well," he said.

The sixth player picked in the 1992 draft out of a Michigan high school, Jeter played briefly for the Yankees in 1995. He earned the starting job this spring, although fancy-fielding Mets shortstop Rey Ordonez attracted more attention at the start of the year.

"He has a sense of humor and he enjoys himself and that, coupled with the ability, makes him what he is," Torre said. "I hope down the road when he's making a big amount of money, I hope he continues to have fun."

Jeter's 78 RBIs were the most by a Yankees shortstop since Frank Crosetti had 78 in 1936, and he became the first full-time shortstop for the Yankees to bat over .300 since Gil McDougald hit .311 in 1956. Jeter's RBI total was the highest by a rookie shortstop in the majors since Cleveland's Julio Franco had 80 in 1983.

Jeter made 22 errors and stole 14 bases and hit .350 after the All-Star break.

Return to Newark Eagles home page

Return to TCBA home page