Maddux takes everything one pitch at a time
Braves hurler shuts out goals, but he's in fifth Cy Young form
By Paul Newberry of the Associated Press 5/4/97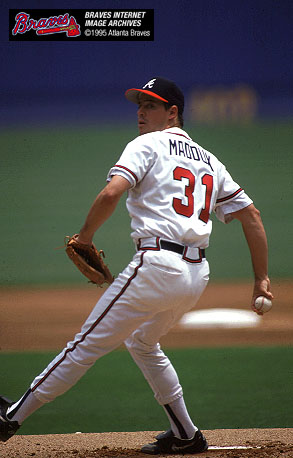 ATLANTA -- Cy Young awards don't matter much to Greg Maddux. He's got plenty of them.
He prefers to focus on the minutiae of pitching: the next team, the next hitter, the next pitch.
On this day, relaxing in the Atlanta Braves clubhouse between starts in a season that already has shown Cy Young-like brilliance again, Maddux refused to let the conversation shift to large, sweeping goals.
Twenty wins? There are too many factors that could scuttle such a season, no matter how well he pitches.
A fifth Cy Young? Too far off to even worry about.
"I enjoy watching the game. I just think about what I have to do to make good pitches. That's it," said Maddux, whose unprecedented streak of four straight Cy Youngs was broken last season by teammate John Smoltz. "I don't try to collect numbers or win games. I just try to make good pitches."
Based on the first month of the season, Maddux might want to go ahead and clear off a shelf for another Cy Young.
During five starts in April, he went 3-1 with a 1.13 ERA. He took a scoreless streak of 29 innings into May. One of his starts took all of 1 hour, 47 minutes to complete -- the fastest major-league game in five years.
"Greg is throwing a lot better," said Eddie Perez, his personal catcher. "He has more velocity and even better control on the corners. I mean, he was great before, but awesome is the word now."
Indeed, Maddux the Magnificent is back, though it's not like he ever left.
"For about the 913th time, there is nothing different about Maddux," pitching coach Leo Mazzone said impatiently. "He's consistent as consistent is. He's simply the greatest pitcher in baseball."
In a rain-shortened, 2-0 win over the San Diego Padres at Atlanta on April 27, Maddux ended Tony Gwynn's 12-game hitting streak.
"Maddux was overwhelming," said Gwynn, one of the greatest hitters ever to play the game.
It's a tribute to Maddux's greatness that 1996 -- 15-11 with a 2.72 ERA and, more telling, no Cy Young -- was considered a subpar year -- only in the sense that it was human.
The previous two seasons, Maddux put together performances that statistically rate as the two greatest years for a pitcher in baseball history -- 16-6 with a 1.56 ERA in 1994, 19-2 with a 1.63 ERA in '95.
How do those seasons compare with this season?
"I don't even try to do that," he said. "What good does it do me? I'm worrying about the Pirates (his next opponent). They've got a lot of new faces. You try to remember what you did against them, what they did against you. I'm not worried about ... 1993 or '94. I don't think it's going to help me."
That's the heart of Maddux's brilliance. He keeps looking forward, yet he has the computerlike ability to retain all those tidbits that help him keep the upper hand.
"Greg's the most intelligent pitcher -- no, make that one of the most intelligent guys -- I've ever coached," Mazzone said. "He's always looking to upgrade his game."
Maddux is a work that's constantly in progress.
"You change every year," he said. "I see a lot of guys who are totally different pitchers today than they were two years ago when they had their career year, their best year. They're not even close to pitching that way now, yet they try to."
Hardly anyone realizes that Maddux's weight has fluctuated between 175 pounds and 195 pounds during his career. Some days, he arrives at the park feeling good, other days he doesn't. His knee might hurt, his hamstring might be sore, his foot could be aching -- all subtle factors that slightly alter the way the ball leaves his hand.
"People change. So I don't worry about it," Maddux said. "I might look back at my last start. What can I do to improve off that? But who's going to remember what you did three or four years ago, even last year? How are you going to remember how you felt and what you did? It's hard enough to remember what you did last week."
Oh, Greg, they'll remember.
---
Greg Maddux profile
* Age: 31
* Birthplace: San Angelo, Texas
* Residence: Las Vegas
* Family: Wife, Kathy; two children.
* Hobbies: Golf, video games
* Note: Only pitcher to win four straight Cy Young awards (1992-95); has won seven straight Gold Glove awards; five-time all-star; nine straight seasons with more than 200 innings pitched; two 20-win seasons.
* Career: Pitched with Chicago Cubs (1987-92), signed with Braves as free agent before '93 season.
* Quote: "Really, all it boils down to is if you can locate your fastball and change speeds, you'll get guys out."

Return to Newark Eagles home page

Return to TCBA home page