Defense gets Charles Johnson to All-Star Game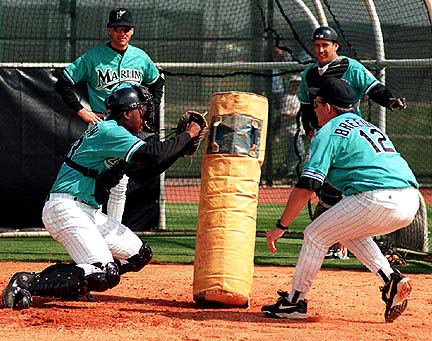 By GREGG DOYEL Monday, July 7, 1997, in the Miami Herald
NEW YORK -- Brilliant defense got Marlins catcher Charles Johnson to the major leagues less than three years after he left the University of Miami, and then it got him Gold Gloves in 1995 and '96.
Now defense is getting him to the All-Star Game.
Johnson was named to the National League team Sunday by Braves/NL Manager Bobby Cox after injured Mets catcher Todd Hundley (elbow) was ruled out. The Dodgers' Mike Piazza is the starting catcher.
Johnson was going to go to the Bahamas. Now he's going to Cleveland.
``It's a lovely change of events,'' said Johnson, who learned of his first career All-Star appointment before Sunday's game.
Johnson's offensive statistics may be pedestrian (.226, 6 home runs, 25 RBI), but his defensive numbers are astounding. He did not commit an error the entire first half -- no passed balls, either -- while throwing out 54.7 percent of attempted stealers (29 of 53) and picking another runner off base.

Return to Newark Eagles home page

Return to TCBA home page