Burnitz relishes chance to burn Indians
By David Kull of ESPN SportsZone 8/14/97
Want to see Jeromy Burnitz smile? Want him to nearly fall off the dugout bench with glee? Ask him about the Cleveland Indians.
Thinking about the tension in the Indians clubhouse, the tangible pressure to win big and win now, humors the mischievous Burnitz. As a former Indian, he knows the strained, now-or-never mentality well.
Traded to the low-budget Milwaukee Brewers a year ago, Burnitz had apparently left any playoff hopes behind with his vacated locker stall at Jacobs Field. But here's the punch line: The Brew Crew is a scant 3 games in back of the big-budget Indians in the AL Central.
And Burnitz relishes causing Cleveland's angst rather than wallowing in it. "I watch Cleveland all the time," he said. "I have friends on that team. A team with our payroll beating them? I know those guys, and I know what's going on over there. They're sweating it out. You get into it. It's the funnest thing in the world."
With or without a division title chase, the fun times are only beginning for the 28-year-old outfielder. The trade to Milwaukee afforded Burnitz an opportunity he didn't encounter in Cleveland -- a regular spot in the lineup.
And the lefty-hitting Burnitz has proven to be a productive, all-around performer, arguably Milwaukee's best. Displaying a rare combination of power, patience and speed, Burnitz leads the Brewers in home runs (21), slugging percentage (.560) and on-base percentage (.376) and is second with 17 stolen bases.
He began August with a flourish, homering in five straight games. Otherwise, the second half has been unkind to Burnitz with a .237 average since the All-Star break. He's platooning in right field with rookie Todd Dunn, sitting against left-handers like he did Tuesday against Seattle's Jeff Fassero.
"Everybody wants to play every day," said Burnitz, who's batting .205 with only one homer against southpaws. "I used to bitch and complain, but my place is to show up and play. No matter what (manager Phil Garner) does, I'm hoping to do my best. He's my boss. I don't make out the lineup. If I did, I'd be in there."
Burnitz is handling his close-to-everyday exposure much better than he did the first time around. He was inserted into the starting outfield of the then-woeful New York Mets as a rookie in 1993. A first-round draft pick out of Oklahoma State, he figured heavily in their future plans as an up-and-coming prospect.
In 1994, however, he played himself out of the lineup with a .238 average. He earned a few demotions to the minors and then an off-season trade to the Indians, who kept him at Triple-A Buffalo for nearly the entire 1995 season.
He excelled as a reserve last year, but with Albert Belle, Kenny Lofton and Manny Ramirez manning the Cleveland outfield, Burnitz had a better chance of winning the lottery than breaking into the Indians' talent-rich lineup.
Then, last August, came the trade to the Brewers and new life for Burnitz, who started in right field and platooned with Matt Mieske. "After I was solid last year, I knew I'd get a chance," he said. "Expectations aren't the same (as in Cleveland) when you're playing for a championship. So, I knew if I stayed healthy, I was going to get more of an opportunity."
Success has led to recognition around Milwaukee, but not just for his clutch bat. Although he jokingly calls himself "bald," Burnitz actually has closely cropped stubble for hair and long sideburns. And forget about a trip to the barber: He cuts the hair himself.
"I take the clippers and I do this," he said, moving his hands over his head from front to back. "It takes two minutes. I used to hang out with (Jack) McDowell in Cleveland, and that's why he's recognized."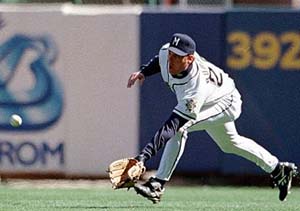 Ah, Cleveland. The divisional race. Two months to go. Battling old friends. Embracing new opportunities.
Burnitz is having fun.
"I'm pleased with the way I've gone about my business," he said. "There's six weeks left. We're in the race, which is awesome. It's a great feeling to be in contention. I love it."
And the smile confirms his feelings.

Return to Newark Eagles home page

Return to TCBA home page